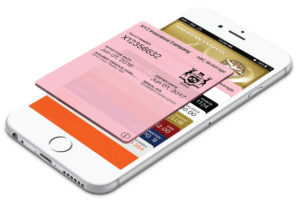 We are excited to announce that Stanhope Simpson Insurance can now deliver digital proof of auto insurance to our customers.  Digital pink cards are convenient, secure and free!
What does this mean for our customers?
You can say goodbye to paper! No more frustration while you rifle through your glove compartment for your pink card.  Get your auto insurance cards from us over email and then save them to your computer or mobile device.  This gives you access anytime, anywhere – even offline.  It's super easy.  There are no passwords or user names to remember.  And the best news of all, there is no cost to use this amazing new feature.  It's 100% free to get digital pink cards!
Are digital pink cards secure?
Yes it extremely secure.  You get bank-grade security to protect your personal information.
How do I access my digital pink card on my smartphone?
You can easily store your auto insurance card (also known as an eSlip) in you digital wallet, alongside your loyalty cards, event tickets, boarding passes, or credit cards that you may already have saved in your phone.  Some common digital wallets include: Apple Wallet (for Iphones with iOS 6 or higher), Pass2U (for Andriod 3.0 or higher), Microsoft Wallet (for phones running Microsoft 10 and higher).
Does this work for other kinds of insurance documents?
Yes! Anything you currently receive from Stanhope Simpson in paper form for home, auto and business can be sent to you by electronically.  You will receive an email from My Proof of Insurance with PDF policy documents attached. Then you can save them to your computer or mobile device.
Where do I sign up?
Contact us today to take advantage of this great new feature!  Or if you are already a customer, reach out your Stanhope Simpson broker to sign up.