Family Business Association – Atlantic was proud to profile the accomplishments of two family enterprises at their Awards luncheon on April 6 at Brightwood Golf and Country Club.  MacGregors Industrial Group and Stanhope Simpson Insurance Limited were be recognized for their contributions and success in passing their family business legacies on to the next generation. Stanhope Simpson Insurance was selected as this year's Family Business Excellence Award Winner.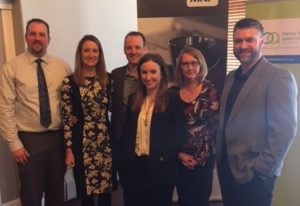 "We really take this award to heart because it represents the culmination of our management team's hard work, effort, time to get us where we are today," said president, Victoria Stanhope, as she accepted the award on the company's behalf.
Alan Streatch, President of FBA Atlantic continues to be impressed by the calibre of companies profiled at this annual awards event. "We are so proud to be able to profile the MacGregor, Stanhope and McDermaid families. Their companies contribute to our regional economy and are rooted in a long and prosperous history. We need to celebrate the successes of these and other family companies; their values and ability to pass the baton to the next generation are core to our regional growth," he says.
Jamie Loughery, Regional Vice President and Managing Director BMO Private Banking in the Atlantic Region, agrees. "Many businesses in the region are facing the complexities of succession. For family businesses in particular the importance of planning ahead and being prepared financially and emotionally is critical." BMO works with family businesses regularly and recognizes that succession planning is now a critical component to their partnership with family and non-family business owners. "Proper planning can have a significant impact on success of the transition as well as the value placed on a business by a potential buyer" adds Matthew Pulsifer, Vice President BMO Commercial Banking.
FBA Atlantic's Family Business Excellence Award is awarded annually to an Atlantic family enterprise and this year's judges,  Dr. Robert Blunden, Blunden and Associates, Matt Pulsifer, BMO Private Banking and FBE Awards event chair, Chace Hynes, MNP LLP,  considered the candidate's company mission, vision & values, their prosperity and development, their succession best practices and the company's business culture and philanthropy.