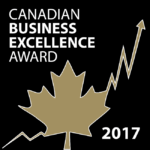 Excellence Canada and PwC Canada recently announced this year's private businesses that have received the Canadian Businesses Excellence Award.  This award to given to private enterprises that clearly demonstrate a strategic approach and measurable outcomes in achieving Delighted Customers, Engaged Employees, and a Culture of Innovation.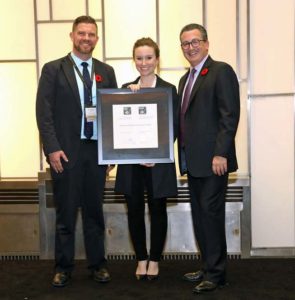 This annual awards program recognizes outstanding achievements by privately-held Canadian businesses from coast-to-coast. The awards were presented at the 2017 Canadian Business Excellence Awards for Private Businesses Luncheon on Tuesday, November 1st at the Carlu in Toronto.  Our President, Victoria Stanhope, was in attendance to accept the award on the Company's behalf.
Panel Discussion
In addition, Victoria was pleased to accept the invitation to participate in a panel discussion about the challenges of running and growing a profitable private business.  Most noteworthy, Victoria offered the only female perspective on the panel.  The panel was moderated by Saul Plener, National Leader, Private Company Services, PWC.
We are extremely proud to receive this award, especially as one of only two recipients in Eastern Canada. Congratulations to the entire team at Stanhope Simpson Insurance!